"So many problems are tied together, and they could all be solved by having a
school garden."
— Fifth grader at P.S. 216
An Edible Education for All
New York City is the largest school district in the country, with 1.1 million public school students — that's just under the population of Dallas, Texas. With six schools in the South Bronx, Central Brooklyn, and Upper Manhattan, our reach is growing exponentially to meet the enormous need for food education citywide.
We teach 3,024 students annually through direct classroom experience
In the 2016-2017 school year, we trained 404 educators through our professional development workshops, who in turn are teaching approximately 82,000 students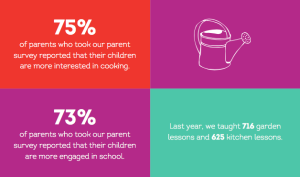 What does success look like?
Our evaluation team uses both qualitative assessments (observations and narratives) and quantitative measures (surveys and studies) to determine our impact. Our researched-based approach is designed so that students successfully cultivate the following life-changing proficiencies and behaviors:
Grade-appropriate knowledge and skills needed to prepare, cook, and eat healthier, plant-based foods
An enhanced positive attitude toward and preference for healthier, plant-based foods
A change in behavior and eating habits, leading to their preparing and consuming more plant-based foods in school and at home
The desire to share and advocate for eating healthier and plant-based foods in the school environment and beyond
By the numbers
Along with our own internal evaluation, we partner with the Laurie M. Tisch Center for Food, Education & Policy at Columbia University Teachers College to measure our impact. During a study at our Manhattan Demonstration School, we looked into consumption habits in the school cafeteria. Some highlights from this study:
19% of our students took food from the salad bar in 2015, compared to less than 1% in 2013
Consumption of salad bar items increased from 0% in 2013 to 11% in 2015
Percentage of students who ate vegetables increased from 11% to 18%
Percentage of students who ate fruit increased from 29% to 42%

An edible education is about more than just food
Along with improved understanding of nutrition and its effects on health, studies and firsthand experience show that the type of experiential garden and kitchen education offered by Edible Schoolyard NYC helps students develop other critical life skills, including:
A sense of responsibility, agency, and ownership of their actions
Increased interest in physical activity
Improved social skills, such as teamwork and leadership
Increased parental involvement
"First we plant it, then we wait for it to grow, then we eat it!"
— Second grader at P.S. 216