A How-To Guide for Making Your Own Food Journal
What you'll need to begin:
Paper/Notepad/Journal – Ideally some form of bound book so that it's easy to keep track of and reference
Pen/Pencil – Use your favorite writing utensil
How and what to journal
This is your journal so be creative and have fun!
Below are some suggestions for how and what to journal:
Start by writing the date (Month/Day/Year, ex: 3/25/20)
Write down what you ate – the more details the better!

Include ingredients
Steps for making it
Suggestions/changes you would make for next time
Break down the meal by food groups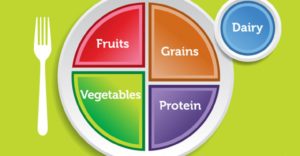 Fruits – Bananas, Apples, Berries, Oranges
Grains – Bread, Rice, Pasta, Oats
Vegetables – Peas, Broccoli, Spinach, Corn
Protein – Beans, Meat, Eggs, Fish
Dairy – Milk, Cheese, Butter, Ice Cream
Extra Ideas
Draw pictures/add photos

Use cut-outs from magazines or newspapers

Tell the story behind your meal

Is this Grandma's famous rice pudding?
What is the history or the memories around this food?

Describe the meal using your 5 senses

Sight – How does it look?
Smell – How does it smell?
Touch – How does it feel? What is the texture?
Sound – How does it sound? Does it crack, fizzle, or pop?
Mr. Shey's Food Journal (an example)
Monday, March 23 2020
Breakfast
Corn Flakes (grains) with milk (dairy) and blueberries (fruits)
Lunch
(We'll use Mr. Shey's lunch to go into more detail)
 Ingredients:
1-2 cans of Tuna

Mayonnaise

Salt/Pepper

Bowl

Spoon

Crackers
Steps:
Open can(s) of tuna and drain excess liquid

Pour tuna into bowl

Add mayonnaise, salt and pepper to tuna bowl (season to taste)

Mix all ingredients together until well blended

Enjoy tuna over crackers
Other ways to enjoy:
Tuna Melt

– Put tuna between two slices of bread to create a sandwich. Add your favorite slice of cheese, then melt it in the microwave, or toast the entire sandwich in a pan over medium heat

Spice it up – Dice and mix a jalapeno pepper (or any other hot pepper) into your tuna. You can also substitute with spices like cayenne or chili powder
Tuna Pasta – Mix tuna into your favorite cooked pasta
Dinner
Curry chicken (protein), roti (grains), broccoli (vegetables), and Mandarins (fruits)
Enjoy and have fun, Chefs!